Office Design – Sliding or swinging doors
Efficiency is important in office Design, whether it's improvements to an existing space or a new building. Swinging doors are typical, however in certain applications, a sliding door is allowable by code and can improve the plan. Should you use a Swinging doors or sliding doors in your design?
Swinging doors take up room to allow for them to open and close. Sliding doors are more compact. A swinging door will open up to a wall. Doors can open 180 degrees against a wall, but in a smaller office, there may not be room for this to occur. Remember to provide the necessary clearances around doors as described in the post "Clearance around a door". In a space with millwork or cabinets, a swinging door in its open position will affect accessibility to millwork. Below are a few scenarios.
Office Design with 90 degree swinging door
Office design with 180 degree swinging door
Office design with sliding door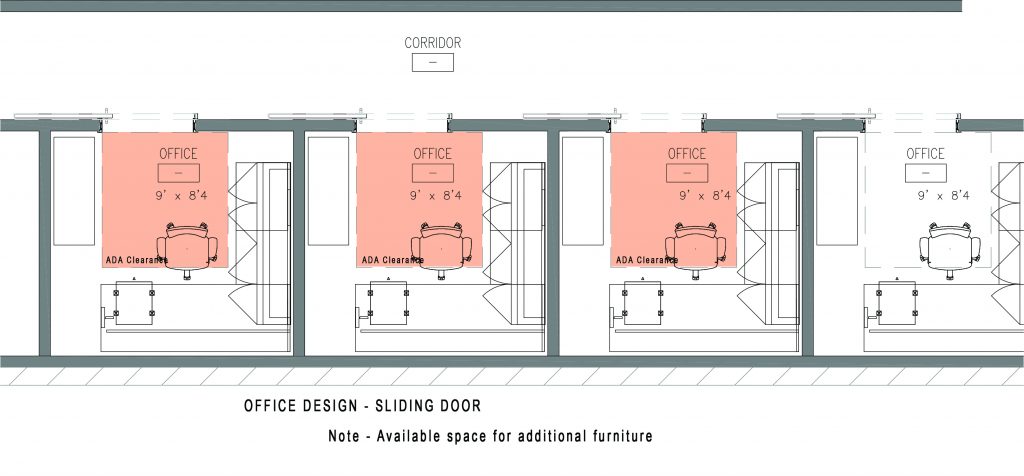 The sliding door is much more efficient. If located properly, it allows for additional wall space where the door would swing to place more furniture or more maneuverability within the space
In locations such as a breakroom, millwork or other elements may conflict with swinging doors. In the two examples below, one layout shows where a sliding door will improve the functionality of the space.
Breakroom with swinging vs sliding door
When is a sliding door allowed?
There are a few instances where sliding doors are allowed by code. The following are some examples based upon the 2018 IBC codes. check your local jurisdiction for current code adopted and their interpretation.
Per section 1010.1.2 Door Swing. – Egress doors shall be of the pivoted or side-hinged swinging type. Exceptions where this doesn't apply:
Private garages, office areas, factory and storage areas with an occupant load of 10 or less.

Group I-3 occupancies used as a place of detention.
Critical or intensive Care patient rooms within suites or health care facilities.
Doors within or serving a single dwelling unit in Groups R-2 and R-3.
In other than Group H occupancies, revolving doors complying with Section 1010.4.1.
In other than group H occupancies, special purpose sliding, accordion or folding door assemblies complying with Section 1010.1.4.3. This pertains to specialty doors which are power operated etc. Example of this is in grocery stores. The doors typical have the ability to hinge during a emergency or when the power disrupts the operation of the door and remains in a closed position.
Power-operating doors in accordance with Section 1010.1.4.2.
Doors serving a bathroom within an individual sleeping unit in Group R-1.

In other Group H occupancies, manually operated horizontal doors are permitted in a means of egress from spaces with an occupant load of 10 or less.
Items in blue, exception 1 and 9 pertain to office spaces.
There are various solutions for sliding doors. Ensure the solution you select meets ADA requirements. Acoustical properties is another factor to consider when picking the type of sliding door. A typical barn door will not have acoustical properties as it doesn't have a seal at the opening, so if this is a concern, do some research on the type of door system. There are numerous examples of acoustical sliding doors. One example that has acoustical properties is AD Systems.
Summary
When planning your next office, determine if sliding doors would be a solution to make your office design more efficient. Will it save space and make it more functional. Follow the examples above for reference but as always, refer to the local jurisdiction, the current ADA guidelines and a local professional to ensure your projects success.