Graphics
Serbin Studio designed graphics for city event.

Updated brochure with new graphics and information.

Serbin Studio design of graphics for event.
   
Rotary – Sizzlin Steak Showdown Graphic Design, 2018
Designed graphic packages to promote event in Buckeye, Arizona.
    
Graphics for Mainstreet Historic Buckeye.  The first attempt back in 2013 as seen below was a brochure which was double sided folded into 6 panels.  It showcased a minimum number of business and was used to generally advertise events throughout the year.  We realized that we had limited ourselves with the quantity of business shown and decided that our next version would attempt to put everyone on the map.  Lara Serbin took all the photos and made the graphic image on the front panel.
In 2015, we revised the brochure with a better map of downtown Buckeye.  The map is actually a birds eye view in 3d  generated in Sketchup 2015 Pro by Jeff Serbin.  You can see this map now being used in various graphics, such as to show event locations. (See below example of Shop Small and Buckeye Days).  The map was coordinated with a series of bubbles which point to over 100 business in Buckeye.  We learned that even if you have been in Buckeye your whole life, there are probably some business you are not aware of.  Also business come and go so this is a heartbeat of current times.  On the Flip side of the map, we still show "fun things to do" in buckeye for the local events as well as some local eye candy.  Lara Serbin took all the photos for the brochure.
Buckeye Mainstreet Coalition Event Graphics , 2016
Graphics for Buckeye Mainstreet event were designed by Lara Serbin of Serbin Studio.

Buckeye Shop Small Graphics , 2016
Graphics for Shop Small in Downtown Buckeye design by Lara Serbin
City of Phoenix Construction Progress Board Graphics , 2015
City of Phoenix Transit requested a graphic board to represent the completion of the phased elevator project in a board that could be presented at the building first floor lobby.  The board utilized the color palette used on their current website.
Tour De Tonopah Graphics, 2015
Buckeye Rotary held its first Tour De Tonopah, a bicycle ride to raise money for the Rotary.  Serbin Studio was asked to design the event poster which was used also as advertisement in various publications.  The graphic also made its way onto the event tshirt.
West Valley Rock and Mineral Club logo, 2014
As a member of the rock club and being in existence for about 3 years now, we decided it was time to create a logo that would represent our club.  Our first thoughts were to create a maskot, a cartoon figure of a man searching for rocks.  However when we began to design the logo, we realized that we needed a logo that was simple and could work on flyers, t shirts, banners etc.  We wanted something that was modern and memorable.  It is interesting where inspirations comes from.  While working on another project involving recycling old street signs, we stumbled upon a graphic board of city standard symbology for street signs.  We thought this would be a great symbology as these are meant to be read at various scales and speeds.
From this inspiration, we developed a logo that incorporated a symbol with some tweaking and adding color synonymous to Arizona and the outdoors.  So, welcome and embrace the new logo for the WVRMC.
Napa Auto Parts Mural Graphic, 2013
The super graphic was designed in Adobe Illustrator using photos of hanging tools from inside the Buckeye Napa Auto Parts.  The final mural will be painted on the east facing masonry wall as part of the revitalization effort.  The alley is one of many minor vehicular routes in down town historic Buckeye that circulate visitors to Main Street Buckeye.
Historic Downtown Buckeye Brochure, 2013
When composed thoughtfully, words and images in a brochure have an enormous influence on a community.  In 2013, Serbin Studio designed a full color, multi-fold brochure to highlight the many one-of-a-kind restaurants and shops that Downtown Buckeye has to offer.   Just as the Town of Buckeye was becoming the City of Buckeye, Serbin Studio worked with the Buckeye Mainstreet Coalition and local businesses to develop a brochure to be placed in the local businesses, Town Hall, local resorts and community facilities.  Over 3,000 brochures were printed on its first run.  Utilizing the latest technologies with design programs such as Photoshop, InDesign and Illustrator to create customized graphics along with some in-house photography, Serbin Studio created this well-executed custom graphic design to bring new life and hope to the Historic Downtown Buckeye.

Rotary Club of Buckeye trading banner, 2013
Serbin Studio has played the role of graphic designer for local congregations and clubs. The initial design starts with basic constraints and then evolves into a personalized identity to reflect a forward looking brand for an organization. We feel the best design comes from a synthesis of many ideas and collaboration between the needs and insights of members.
Buckeye Valley Heritage Cookbook
General Federation of Women's Clubs Arizona Centennial 1912-2012
Beth El Congregation, Phoenix, Arizona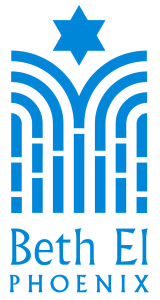 New logo and branding for in collaboration with Susich Design Group, 2006.