Data Center Design
Data Center Development
Serbin Studio has been working in the Data Center Design industry over the past 12 years.  We have been the AFP architect for Digital Realty 120 East Van Buren Street property which is a well-known carrier hotel for the Phoenix Metropolitan area.
# of  Projects  – 260+
Construction Costs – from a few thousand $ to upwards of $30 million dollars on a single project.
Locations – Arizona, California, Texas
The projects have ranged from small 1,500 s.f. data center for private companies or local utility companies to projects for Fortune 500 facilities up to ½ million s.f. of data floor.  Projects include Master planning for new facilities, master planning of existing buildings to create new data centers, new data floor suites within shell buildings, upgrades to building mechanical and electrical systems (including mechanical central plants, Main building electrical feeds, back up generators, additional fuel storage, mechanical water storage etc.), addition or renovations to supporting offices, Facade upgrades, As-built documentation of existing spaces, building record storage organization, restroom upgrades, elevator upgrades, site upgrades, the list goes on and on.
Digital Realty – Phoenix, Arizona
The building, originally built in 1947, was used by the Arizona Republic for the printing and distribution of local newspapers. In 2001, the 5-story facility was converted into a Data Center. The facility houses sophisticated power and cooling systems, multi-layered with security and an enhanced fire suppression system to support the mission critical Data Center environment.
The facility is 380,450 square feet, with approximately 108,000 square feet of raised floor. It is a premier internet gateway for the Phoenix area. The multi-tenant building has 33.8 MW of critical IT capacity diverse power supporting customs located within the IT services, professional services and co-location sectors.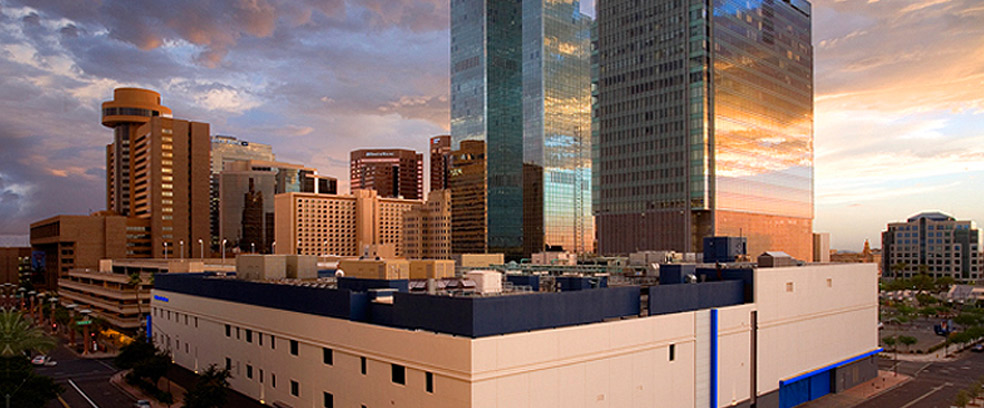 Serbin Studio has designed a variety of spaces ranging from Data Center to supporting office functions. Building projects have included adding Electrical Power vaults to increase overall building electrical capacity and addition of backup generators to support the electrical capacity. In addition to power, the cooling component has been upgraded to a state-of-the-art Northwind's cooling system. This is the same system which cools the adjacent Chase Field, Phoenix convention center and various buildings in downtown Phoenix. Serbin Studio along with mechanical, plumbing, electrical and structural engineers have been instrumental in adding redundancy to the entire building.
Serbin Studio has been the on-call architect for the facility since 2005. Serbin studio addresses all aspects of building design, permitting, and code related issues working along with the City of Phoenix Annual Facilities Program inspectors to ensure that all systems are to current code.
Northwind heat exchangers
Rooftop backup generators
Digital Realty – Tempe, Arizona
Exterior renovation of Entry feature of building.  Included the removal of a weathered fiberglass exterior wall system with a new state of the art insulated metal wall panel system.
MISSION CRITICAL DATA CENTER MASTER PLANNING – CLIENT UNDISCLOSED
Designed is a forward-thinking architectural design housing supercomputers that support the world's internet needs.  The facility sitting on a 10 acre site, was designed offering two schemes.  One scheme utilizing an existing structure of 68,000 s.f. with additions bringing the facility up to 110,000 s.f.   A second scheme was to develop a brand new facility on the existing site with 162,000 s.f. of building structure.  Working with a team of experts in Mechanical, Plumbing, Electrical and structural design, Serbin Studio provided solutions offering flexibility, expandability, redundant design for this Fortune 500 client.