My family and I went on the West Valley Rock & Mineral Club field trip.  The main stops were Dixie Mine to look for turquoise, 4th of July Butte to dig up Agates and finally Sundad Ghost Town.   Looking for rocks doesn't cost anything, its fun to find a cool rock and I really love listening to Chuck's stories during the hot dog cook out in the desert during lunch.
Remember https://serbinstudio.com/exploring-harquahala-ghost-mining-town/, well Chuck went on that trip too.  There were about 15 WVRM members yesterday which included these 2 crazy guys from Kentucky with super thick accents.  It was like they just stepped off their homemade time machine last stop Vietnam War.  One of them thought I looked more like a Pat! Once he knew my name he said it perfectly.  Nicest and liveliest guys you ever want on a WVRM trip.
Jeff and Chuck have the most rock and mineral knowledge of the crew.  Our second stop after finding a lot of turquoise treasures at the Dixie Mine was 4th of July Butte, Chuck said "This is where  people from Phoenix would come to set off fireworks since they weren't allowed to blow up anything in Phoenix!"  The Butte must have been famous after the age of the auto, I mean who would ride in a horse and carriage for 70 plus miles to the middle of nowhere!
As we got out of our dusty cars, jeeps and trucks we took in the mountains all around us with cool names like Yellow Medicine Butte and Woolsey Peak.  The kids were running around all excited after Chuck informed everyone, "You wanna cross the road and look fur Blue Agates along side of the washes, everything west of the roads bin picked over!"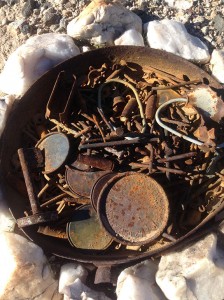 Chuck was right, we all found tons of Agate. Since I am flexible and tiny my tactic was to crouch under the brambling Palo Verde trees  growing in the middle of the washes.  I quickly found glints of cool greyish blue in the dried mud.  After I broke my nail and cut my finger digging them out I held them up to the sun and I could see the rock glowing from within.  The outside is porous with small holes like a sponge and the inside is like looking into the eye of a dark desert monsoon. Awesome!  It is miraculous something so gorgeous is just laying covered in dust and mud in the desert.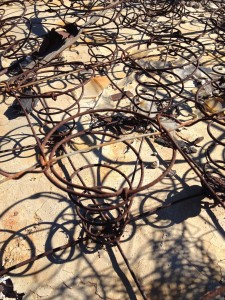 We did end our trip at Sundad a hippie ghost town. There were no buildings just neatly arranged organic shapes with rusted out trinkets and beautiful broken glass in the center.  The site did have a peace and love vibe it was still giving off from it's once thriving Hippie Commune of the 1960's and 70's.
Stop your car and walk in the desert.