Commercial Retail & Office Design
Lobby, Customer Lounge, Restroom, Conference Room Improvements
Mesa, Arizona 2018 – Client undisclosed
The client, a fortune 500 company, hired Serbin Studio to transform the existing building's core spaces into a World Class facility with an updated Lobby, Customer Lounge, Restrooms, Elevator Cab, Conference Rooms and Customer Office space.  The building had a 1980's vibe with outdated materials, finishes and colors.  Serbin Studio transformation included out with the old and in with the new.
As shown in the before and after photos, out was the glass block and faux planters.  With a dark and depressing vibe, the goal was to breathe new life into underutilized spaces and optimize while meeting current code requirements to bring an excitement to the working environment for the building's users and customers.   With over a year's work of design and construction and the challenges of working within an existing facility operating 24/7, we are excited to present Serbin Studio's latest masterpiece.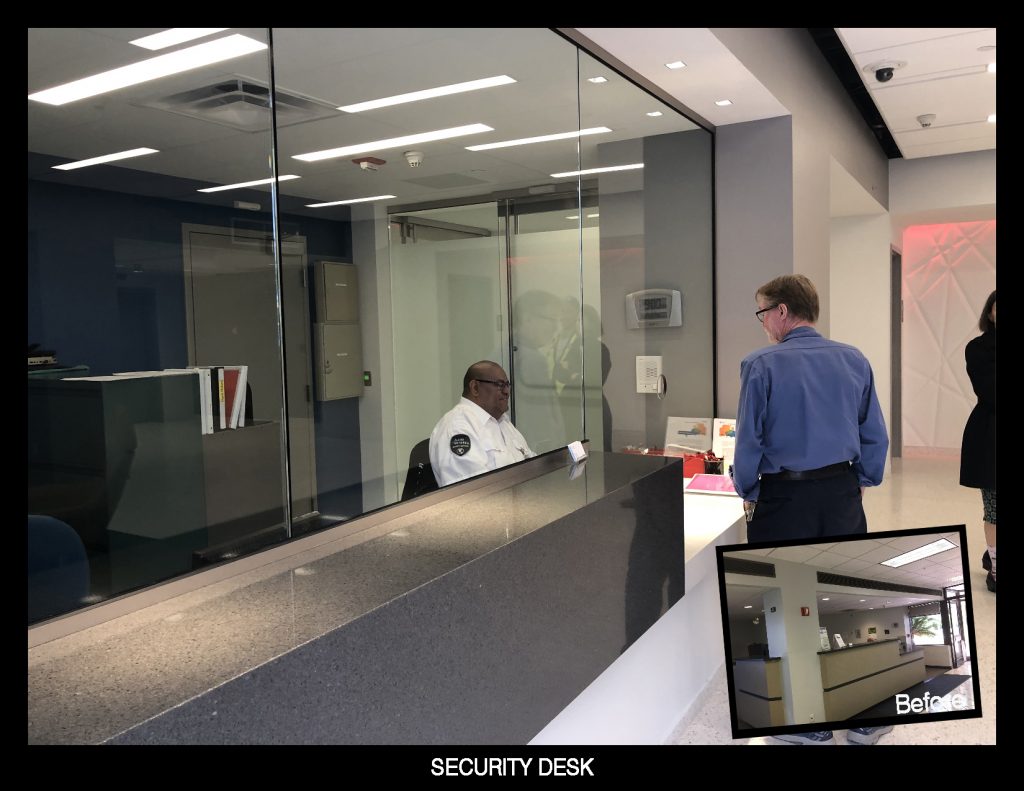 Commercial Retail & Office Design Tenant Improvements
Exterior Refurbishment, Tempe, Arizona – 2018
Upgrade to exterior finishes on existing building.
Exterior Kalwall fiberglass finish weathered by age
Exterior skin yellowed and warped from Arizona heat and sun
Installation of metal panel with high performance 4″ rigid foam insulation knightwall system
Installation of high performance double insulated window wall glazing system
Elevator Refurbishment, Phoenix, Arizona – 2015/2016pgrade to Existing elevator systems and cab interiors for a 9 story, 4 cab building.  Building was built in 1988 and equipment was in need of upgrades and cab interiors were outdated.  The design included:
New energy efficient machines with regenerative drives
New elevator controllers with the latest dispatching technology
New elevator control panels within elevator cabs
New illuminated call buttons, directional and position indicators at all elevator lobbies
New modern and durable elevator finishes with energy efficient LED lighting
Proposed Elevator Cab Interiors                                           Elevator Material Board
Tech Company (Undisclosed) Arizona – 2015
One of the world's leading Tech Companies faced major changes in 2015. With the expansion of its company and acquiring several others, the current offices that handle day-to-day operations were ready for an expansion.
With this need for more office space and an update Network Operating Center NOC, Serbin Studio assisted in expanding their current workspace that allowed for collaboration and comfort for the staff.
We developed a complementary workplace with new furnishings and finishes to replace its outmoded office space and promote cross-disciplinary ways of working.
New workstations nearly doubled the amount of staff, a new multi-tiered NOC was developed for better visibility to the video wall, new conference rooms allowed for inter-connectivity to others throughout the country and world and enlarged break rooms allowed for a place to just get away.
Tech Company (Undisclosed) Arizona – 2015
For the offices of one of the largest Data Center managers, Serbin Studio conceptually design transformed their existing space and adjacent previously leased offices into a dynamic office that showcases a creative and dynamic workspace.
While utilizing and respecting the recent remodel of their existing offices, the intent was to expand and nearly double the space allowing additional staffing needs and providing drop in spaces for visitors.  The company has building spread out throughout the country and world and managers for other regions of the country or their main headquarters on occasion need a place to drop anchor for the day.
Exterior Facade Upgrade for Liquor Corral – Buckeye Arizona – 2016
The Liquor Corral, a business in Historic Downtown Buckeye, is revitalizing the façade to bring new life to a building which contains a thriving business, yet a tired exterior appearance.
The original building is your typical standard metal structure you may see on surrounding properties throughout Buckeye.  Years ago, a covered wood porch entryway was built on the front north facade to embellish the standard building.
The new improvements include an entry doorway and windows without the present security bars to open the building and make it more welcoming.  Sliding barn doors with a cut metal pattern were added for security.
New exterior raw steel material was added to the north building facade along Monroe Avenue with a design elegance reflecting the motive of western wear.  The pattern of cowboy boot design was used as the inspiration for the fenestration.  Custom steel panels were designed and cut using a sophisticated computer aided machine.
The panels  have a natural rust patina finish.  This finish is seen throughout the desert southwest in many forms.  Architecturally, it brings a warmth and a level of sophistication to the building.
Carniceria Y Taqueria Durango – Buckeye, Arizona – 2015
Located in Downtown Buckeye on Monroe at 5th ave, the building was built in the early 1950's.  The Carniceria, longtime tenants decided to purchase the building and improve the remaining vacant spaces.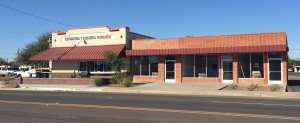 The design included a facade remodel and improvements of the existing spaces into a grey vanilla shell with the addition of ADA restrooms.  The building owner also utilized a Catalyst Grant program through the City of Buckeye to assist them in the development.
Paris Rendez-Vouz – Desert Ridge – Phoenix, Arizona – 2014
Tenant Improvement at Desert Ridge in Phoenix, Arizona.  The project consisted of an improvement of an existing abandoned cafe into a French Macaron and pastry shop.  The project consisted of a 800 s.f. space which contained some existing equipment.
Part of the evaluation was to determine what equipment was useful to the new development.  As with any small project, the challenge was to figure out how to fit all the requirements and equipment within a small space.  Budget was also another challenge and along with the client, looked at various options from used and new equipment.  We learned that with enough research, there are many options available.  The internet was our best friend.
While working closely with mill work manufacturers, equipment manufacturers, signage companies and a variety of specialty sub-contractors, we developed a design that will bring a fresh and new concept to Desert Ridge.
Fresh Healthy Café – Westgate – Glendale, Arizona – 2014
Tenant Improvement at Westgate City Center located adjacent to the  University of Phoenix Stadium in Glendale, Arizona.  The project consisted of 1,400 s.f. of tenant improvements within an existing suite.  Only a few things remained from the original space but a new fresh look to match the branding of Fresh Healthy Café was incorporated.    Restaurant design is a coordination of specific equipment with unique electrical and plumbing design.  The original layout was a children's clothing boutique so there were significant changes.  The project utilizes sustainable design practices and incorporated environmentally sensitive items such as Bamboo millwork free of formaldehyde binders and harvested using sustainable practices.  Use of LED lighting throughout using the latest technology to be energy efficient and minimize maintenance due to bulb replacement.  It was important to salvage much of the existing finishes as possible.  The wood flooring was retained and the contractor was able to find a match.  The existing toilet facilities were retained to minimize waste and un-necessary changes.  By salvaging or utilizing much of the existing finishes, there was little waste from the project.
Office Tenant Improvements, Arizona – Tenant undisclosed – 2013
Architectural customization is the driving force behind this signature office space. Taking a vacant shell space within an existing building and creating a work environment that brings both engineering and aesthetics to its design, it created a space which is both functional and comfortable.  The space was similar to finding an old car within a barn and conducting a frame up restoration with new mechanical systems, plumbing, electrical systems, walls, doorways and finishes to invent a space that functions like a well oiled machine.  Serbin Studio closely collaborated with the client to incorporate their business branding into the space, which serves as a key reminder of their purpose, the world's leading enterprise with innovative solutions.
Office improvements, Arizona – Tenant undisclosed
For this existing space, Serbin Studio's charge was to revitalize the existing 10,000+ s.f. space to create conference rooms, management offices, leasable private offices and public lounge space in a creative, progressive, forward-thinking environment.  Approximately 20% of the space to remain occupied during the course of construction.  New materials and lighting were incorporated with a result of a seamless integration of old and new that will serve the occupants for years to come.
Ingleside Animal Hospital, Phoenix, Arizona
The new commercial facility includes a single story with a basement.  The 11,000+ s.f. facility includes  7 exam rooms, pharmacy, offices, treatment, surgery, kennels, grooming, reception and conference room.  The building environment is an attractive yet functional and with fresh color palettes and finishes, it creates spaces which are enjoyable to the users, visitors and animals.  While LEED certification was not a project goal, the project incorporates many sustainable design practices.